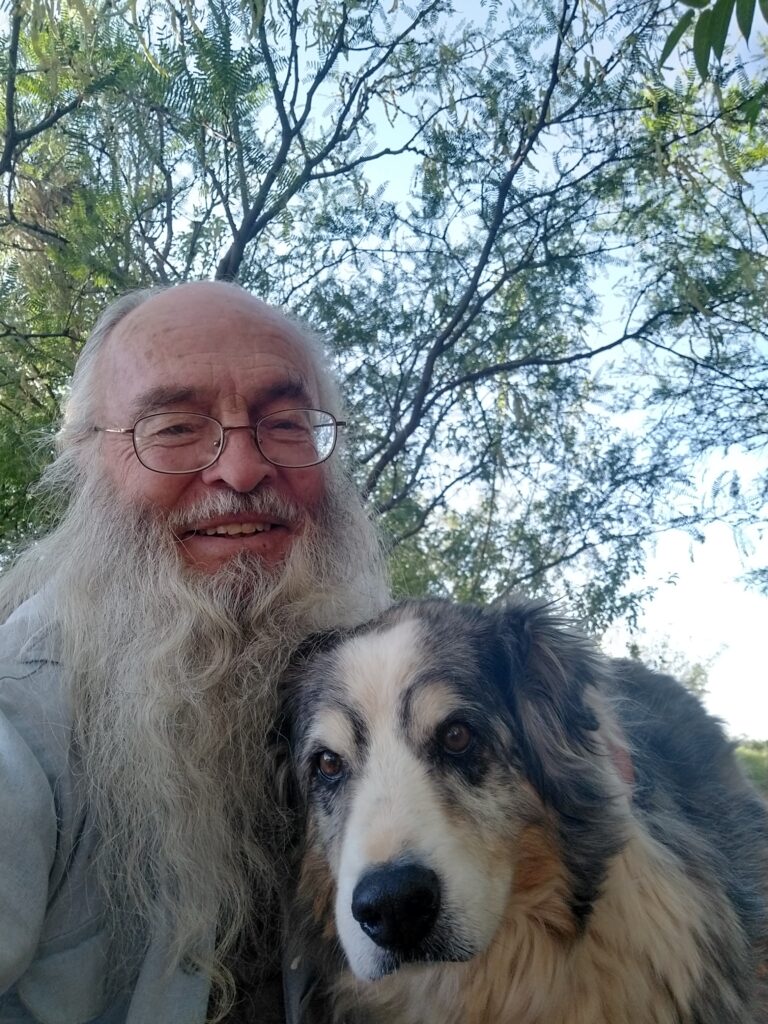 Michael Gregory was born in Toledo, Ohio (19 December 1940), the second son of a working class family. He was a member of the first freshman class of the new Mission Bay High School in Pacific Beach, California, where his parents had moved in an unsuccessful attempt to save their marriage. He returned to Toledo with his mother in 1954. In 1958, he graduated from Scott High School, where he had become active in the then-new civil rights movement. In 1962, he received an interdepartmental BA in History, English and Philosophy from Toledo University where, in addition to his course work and creative writing, he was active in the civil rights and anti-war movements..
After earning an MA in English at Pennsylvania State University, he was accepted in the UCLA Center for Comparative Folklore and Mythology with a Teaching Assistantship in English. Following two years as an instructor at Chapman College, he entered the new PhD program in English at UC Irvine on a scholarship from the University. After returning from a few months living in the outback of British Columbia he dropped out of graduate school, retrofitted a 1950 60-passenger Bluebird schoolbus and went on the road. From 1972-1977, he worked in California and Arizona as a Fire Lookout and firefighter for the US Forest Service.
He has been married twice (Helen Byrne, 1960-1969; Nicola Zeuner, 1995-2000) and has three sons and a daughter. Since the early 70s, he has made his home off-grid on forty acres of semidesert grassland in southeast Arizona ten miles from the US-Mexico border.
Poetry
Although his poetry had begun to appear in national venues (Antioch Review, Massachusetts Quarterly Review, Michigan Quarterly Review, Fiddlehead, etc.) in the early 60s, and he was for a short time marginally involved with the southern California poetry scene around Trace magazine, by the end of the 60s he had stopped submitting to periodicals.
In the autumn of 1973, he purchased an antique treadle-powered Chandler-Price letterpress from a warehouse in Alameda, California, and hauled it in his pickup to Tucson, where he hired an itinerant printer to teach him the rudiments while printing his first book, The Valley Floor, a series of vignettes in verse on natural history and contemporary homesteading in the Sulphur Springs Valley where he had recently settled.
In 1975, he moved the press to Bisbee, Arizona, set up shop as the Mother Duck Press, and started the Bisbee Press Collective, a cooperative to help authors print and publish their work. One of the works printed by the BPC was his Hunger Weather 1959-1975, an experimental collection based on his experiences during the extended decade of the 60s.
In 1978, he and several BPC members along with members of the related Cochise Fine Arts alternative arts space, co-founded the Bisbee Poetry Festival, which put Bisbee on the poetry map over the next few years as it showcased first- and second-generation writers of the Beat movement and San Francisco Renaissance. In 1981, he moved his print shop (which by then included several more presses) into the 1905 Central School building in the heart of the Bisbee historic district, and initiated formation of the Central School Project, a non-profit cooperative community arts center. He served as director of CSP for the next twenty-six years (as a volunteer for the first 13 years, semi-volunteer for the next five), during which period the organization bought and substantially restored the Central School building, turning it into the principal venue for art exhibits and performances within a hundred-mile radius. From 1990-2000, he hosted the CSP Poets Voice series, featuring bimonthly readings by nationally-recognized poets, often in collaboration with the University of Arizona Poetry Center.
In the 80s, his poetry began appearing in periodicals and anthologies again (mostly ephemeral journals and webzines), and he published several chapbooks over the next thirty years or so, including Song of the Beast (Brushfire Books, 1983), a two-man show with Christ Dietz, and re: Play (Pudding House, 2008). In 2013, Post-Soviet Depression Press brought out Mr America Drives His Car, a selection of pieces written during the previous twenty-five years, many showing the influence of his involvement in environmental politics during that fin-de-siècle era.
In ta he late 80's he began what became a 20-year study and verse meditation on literary modernism built around the life and work of the poet Ezra Pound. In 2020, it was published by Red Dragonfly Press as the 400-page Pound Laundry.
Environmental Activism
While working for the Forest Service on the Apache-Sitgreaves National Forests, he became active in two areas of environmental concern — wildlands preservation and herbicides — which engaged him for the next quarter century. Joining the Sierra Club in 1975 to better address these issues, he soon became chairman of the Club's Grand Canyon Chapter, which gave him a place at the table in decision-making on a wide variety of environmental issues — including, among others, pesticide reform; protection of the endangered San Pedro River; state and federal legislation and regulations (including passage of the state's Environmental Quality Act and Omnibus Hazardous Waste Act); and a number of border-related issues (e.g., air pollution from the antiquated Phelps-Dodge copper smelter in Douglas, Arizona) involving binational action.
During these years, it became clear to him that environmental protection — especially protection from toxic pollution: clean air, clean water, clean food — is a basic human right, a right which can be achieved only by provision of more, and more accessible, public information about toxic pollution. As Hazardous Materials Coordinator for Cochise County with primary responsibility for writing the county's hazardous materials response plan under the federal Emergency Planning and Community Right to Know Act (EPCRA), he became even more convinced of the need for greater recognition and exercise of the public's right to know (RTK).
In 1990, he formed the non-profit Arizona Toxics Information to concentrate on pursuit of those goals in two principal ways. First, by producing a number of technical and policy papers on toxics issues, in particular pollution issues in the US-Mexico border region, which in the early 90s was drawing an unprecedented degree of attention due to the ongoing NAFTA process. Second, by serving on a number of governmental, inter-governmental, non-governmental and corporate boards, steering committees, task forces, etc., addressing toxics policy at local to national and international levels.
His ATI work culminated in participation in two inter-related processes: development of the Stockholm Convention on Persistent Organic Pollutants (the POPS Convention); and development of international RTK programs by the OECD (Organization for Economic Cooperation and Development) and NACEC (North American Commission on Environmental Cooperation).
The OECD/NACEC process (1993-2000) entailed development of a guidance manual for nations to institute RTK programs, modeled largely on the US-EPA Toxics Release Inventory (TRI) which had been established under EPCRA; and the development of such a program for the trinational NAFTA region, with particular attention to Mexico which, unlike Canada and the US, had no national program.
In the final three years of the decade, as an active participant in IPEN (the International POPS Elimination Network, comprised of 300+ NGOs), he was closely involved in the construction of the POPS Convention and instrumental in the inclusion of RTK provisions modeled on those of EPCRA. After the Convention was signed in December 2000, he dis-incorporated ATI and over the next few years went into retirement with the intention to focus on his orchard and writing.